Isometric exercises help reduce pain and improve mobility in cases like arthritis, hip pain, and knee pain. This is the first exercise that a PT will perform to assess muscle strength and level of pain. Therefore, Isometrics are not only important as pre-operative measures but also help in speedy recovery after injury or surgery. The key to isometric exercise is to have no visible movement.  Basically, you are trying to contract a muscle and hold that contraction for a few seconds in a pain-free range. Gradually, you should be able to hold the contraction for a longer period and perform a stronger contraction – this is how it progresses.   My previous article described isometric exercises in detail.  In this article, I am going to discuss important isometric exercises for hip and knee pain.  Isometric exercises that help in hip and knee pain are quads,  hip abduction and adduction, hip flexion, and hip extension.  I'll explain each exercise in detail below.
Quads Sets:
Quads are an important exercise for arthritis and after a hip/knee replacement surgery.  You can find other important knee exercises to improve muscle strength here.
Position: Lay on your back or in a long sitting position as shown in the picture. You can do it while standing once you know how to do this exercise and feel comfortable with it.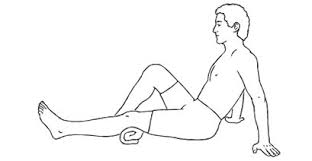 Place a rolled towel (or a
) behind the knee. Try to push down the towel with your kneecap while contracting/tightening quadriceps muscles. Hold it for 3 to 5 seconds in a pain-free range. Increase the hold to 10 to 15 seconds.
Frequency: Repeat it for 10 to 15 times for 3 to 5 times a day.
Hip Abduction and Adduction:
The picture below demonstrates how to perform isometric of hip adduction. You can place a pillow or a ball between your legs and squeeze it. You can hold that squeeze for three to five seconds in a pain-free range.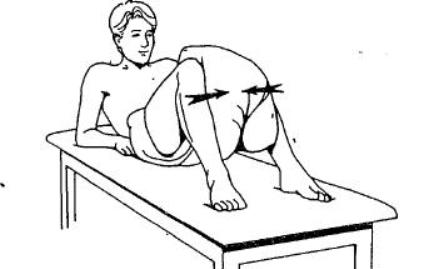 For Abduction isometric, you can have a
or Elastic band around your thighs and try to push your legs outwards (as if you are trying to open your legs outwards). Remember not to have any visible movements and no pain while doing exercises.
Hip Flexion
The picture below demonstrates how to perform hip flexion isometric. Try to push your leg upwards against the hand (you are applying resistance in the opposite direction with hand on the same leg). Hold the contraction for 3 seconds, and repeat it 10 times.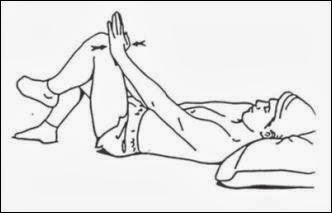 Hip Extension:
For Hip extension, lying down on your back, put a rolled towel (or a
) under your affected heel, try to push down the towel while squeezing the buttocks. Hold it for 5 seconds without holding your breath, repeat it 10 times twice a day.

So this is it for Isometric exercises to help with hip and knee pain.   If you are doing these without supervision, make sure to perform the exercises accurately in order to achieve the desired results.  One can also perform isometric of back, neck, shoulder, elbow, etc.
Printable Handout
Do you perform isometric exercises as an initial step during your session? What type of results do you see? Let me know in the comments section below.