Correct ergonomics for any position is crucial.  If not addressed, an incorrect posture can cause pain, injury and chronic deformities. The data from the Bureau of labor shows 1/3rd of occupational injuries occur from work-related musculoskeletal disorder (MSD), for which employers pay an estimated 15 to 20 billion dollars each year for workman's compensation. This also results in workers losing work days, extra labor, losing deadlines for projects, etc. Plus, it causes some chronic pain that a person has to suffer through. These are scary numbers, however, with the right techniques, most of these injuries can be prevented!! This is the aim of this series. To help people find a better fit for their work environment, avoid MSD and chronic pain.
I discussed the importance of a proper posture in my previous article. If you are one of the regular readers of this blog, you may have also read about how to analyze a posture.  Here, I want to talk about proper positioning while doing different activities. Essentially, your do's and don'ts with different motions.  For instance, sitting in front of a computer for long hours, lifting and carrying heavy objects, reading a book or watching television, etc. The technical term of word ergonomics means a study of work. Per OSHA, it is defined as designing a workplace to fit a person's body. And not making a person fit to design. Yes, it is personal customization of your surroundings!! The first part of this series is ergonomics for sitting in front of a desk like a computer or a television.  
Ergonomic Series: 
Since this is a very broad topic I am going to break it down in a few articles in the series. I am going to attempt to capture major issues in detail. In this article (part 1), I am going to talk about ergonomics for sitting in front of a computer. In Part 2, I am going to discuss lifting and carrying heavy objects. And in Part 3, I want to discuss tips on snow shoveling. Part 4 of the series will consist of ergonomics of driving.
Ergonomics for Sitting in front of a Computer:
When we talk about sitting, we need to consider the surface we are sitting on. This is usually a chair. So height, back, and depth of the chair all matter. Also, if we use a computer, the position of the screen, placement of the mouse and the keyboard also play a vital role for head, neck and hand ergonomics.
The chair should be adjustable in height and with back support for your correct posture. The picture below shows different correct and incorrect sitting and standing positions.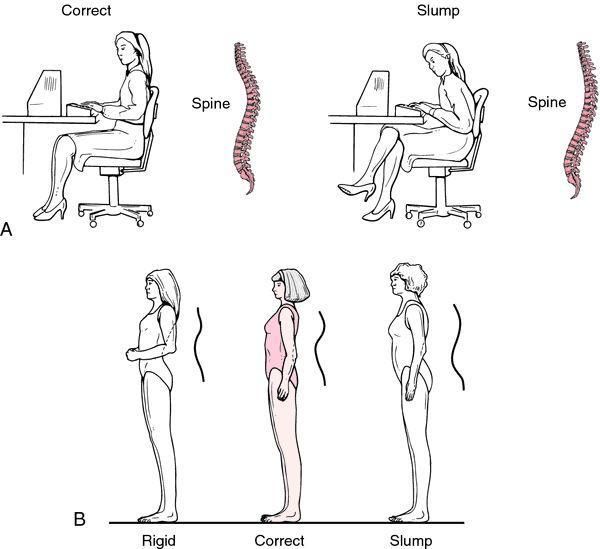 Correct Positioning in the chair:
Your head and neck should be straight, tucked in.
Ears, shoulders, and hips should in alignment. Hips, knees, and ankles should be making 90 – 90 – 90-degree angle.
Your forearm (from elbow to wrist) should be supported.
Elbow should be flexed at approx. 95 to 100 degrees while using the keyboard.
The mouse should be at the same height as the keyboard.
The wrist should be at approx. 10 to 15 degrees of flexion.
The computer screen should be at your eye level so that you don't have to keep your neck consistently tilted at one side or in one position.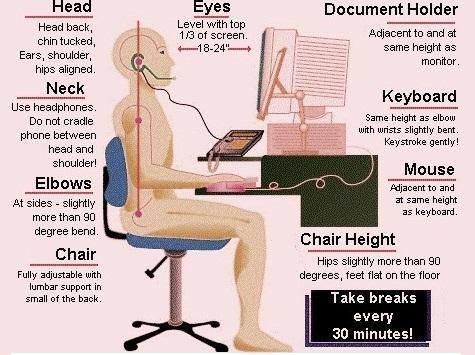 How to Get to This Correct Position:
After reading the above tips, now you know if your position is correct or not. What to do now? Don't worry, don't stress out. You don't have to think about putting in your notice and find another "ergonomically proper" job 🙂
Below are a few tips that you can implement by yourself to adjust your workplace.
Invest in an adjustable chair for your work. This is a must.
Change the chair height, to get hip, knee and ankle in the right alignment.
Change the chair angle to get proper back support.  Depending on your position, you may need more support on the lower lumbar area, or upper back or fullback, etc..
You can also use a cushion for your chair to help relieve pressure.
If your computer screen is not at a proper height, you can put a thick book or a few books underneath. A thick cardboard box will work as well. This will change the height of the computer screen.
Majority of computer screens can also be tilted up or down to change the angle. This will help you attain a proper head and neck position.
If your feet do not touch the floor, you can put a small stool or step stool underneath to support them.
Few Other Tips for Proper Ergonomics: 
Many employers invest in adjustable or sit to stand desks. That means you can take a break from constant sitting. You can stand up and work in front of a computer. The picture above demonstrates the proper positioning while standing in front of a computer.
Take a break from the computer screen every half an hour or every hour for one or two minutes. This is greatly beneficial for your eyes, neck and overall health. You can perform chin tuck exercises during that break.  If you can, also stretch major muscles every couple of hours. This should not take more than five minutes.
If you consistently having low back pain or want some extra support on the lower back area, you can use [amazon_textlink asin='B000GPS7MW' text='lumbar rolls' template='ProductLink-LifeOfPT' store='lifeofpt-20′ marketplace='US' link_id='87574a75-732c-11e8-aef1-0541103249e8′]. They are very small, rigid rolls that can go on your chair at the low back area for more support.
Therapeutic Exercises to correct the posture:
Below are a few exercises that can help correct upper body posture. You can perform these throughout the day as they are very simple exercises. Majority of these can be done in your office or in a public area without drawing a lot of attention.
References:
https://www.osha.gov/SLTC/ergonomics
https://orthoinfo.aaos.org/en/staying-healthy/how-to-sit-at-a-computer
Click to access ergonomics.pdf
Click to access Sittandets-ergonomi-version2-2012-English-lr.pdf